Restore Damaged Teeth with Natural-Looking Composite Fillings
---
Composite fillings are a dental procedure that can inconspicuously repair teeth damaged by cavities, potentially preventing the need for root canal therapy or costly extractions. The doctors at PS Smile Dental in Englewood, NJ, place composite fillings instead of silver amalgam fillings because of their durability and oral health benefits. These tooth-colored fillings not only promote optimal health and function, they are also natural-looking and virtually invisible.
When Are Dental Fillings Necessary?
Dental fillings are the standard for treating teeth that have been damaged by decay. Plaque and tartar harbor bacteria that can lead to cavities, which create holes in the tooth enamel. When a cavity is present, the damaged portion of the tooth structure must be removed to keep the bacteria from spreading. Once the decay is removed, there will be voids left behind. Fillings remove those spaces and reinforce the tooth structure to prevent further damage. Dental fillings are quite common and are sufficient in many cases. However, if the decay or damage is extensive, you may be better suited for an inlay, onlay, or dental crown. Our doctors can help you determine the most beneficial and efficient treatment for your situation.
At PS Smile Dental, our doctors exclusively place tooth-colored composite fillings, which offer numerous advantages over traditional silver fillings.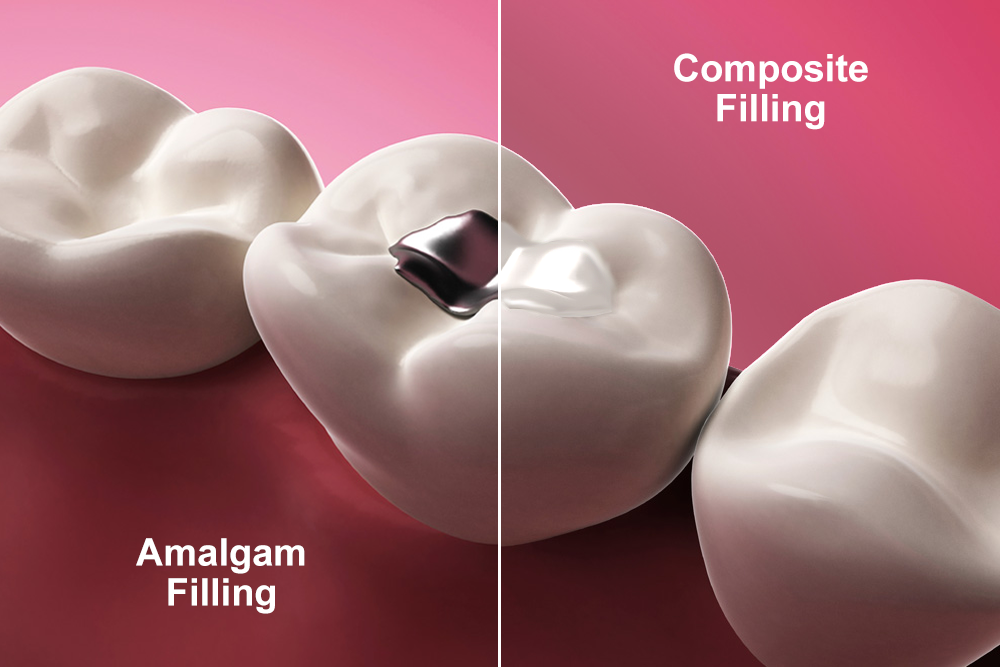 Composite Fillings vs Traditional Silver Fillings
Amalgam fillings were commonly used to treat tooth decay before the invention of composite resin. Containing a mixture of mercury, copper, zinc, tin, and silver, amalgam fillings are still used today in some dental practices. However, at PS Smile Dental, our doctors exclusively place tooth-colored fillings, which offer numerous advantages over traditional silver fillings:
Aesthetically-Pleasing: One of the most desirable qualities of composite fillings is their natural-looking appearance. While amalgam fillings are noticeable, tooth-colored fillings blend in for an incredibly lifelike smile.
Long-Lasting: Composite fillings bond directly to the surface of the tooth enamel, strengthening and reinforcing the natural structure.
Resilient to Temperature Change: Amalgam fillings expand and contract when exposed to fluctuations in temperature. Over time, this can compromise the structure of a tooth. Composite fillings do not respond to temperature changes.
Hypo-allergenic: Although the risk is low, some patients can develop an allergy to traditional amalgam fillings. To date, zero cases of allergic reactions have been documented when using composite fillings.
Receiving a Dental Filling
The first step of any treatment is a proper diagnosis. Using the latest in digital imaging, x-rays will be taken to determine the severity of the damage. If a filling is recommended, you can rest assured that it is a simple and straightforward procedure that can be completed in one short dental visit. The steps for placing a dental filling include:
Prepping the Tooth: Before the filling can be placed, the decay must be completely removed. At PS Smile Dental, we use WaterLase technology to prepare the tooth. This conservative method often allows us to perform the procedure without the need for local anesthesia or dental drills.
Placing the Filling: Once the damaged portions of the tooth structure have been removed, the composite resin material will be placed to fill in the spaces left behind.
Curing the Material: A special dental curing light will be used to harden the composite filling.
Shaping Your Restoration: Once cured, the doctor will check your bite and make any necessary adjustments.
Schedule a Consultation
Filling a cavity today is much less invasive than in years past. Modern advances in dentistry now allow us to perform this procedure in a conservative manner. If you or a family member is experiencing the adverse effects of decay, contact us online, or call our office at (201) 227-0635.
"Dr. Paek and his team were punctual, friendly, and most importantly turned something I dread into a pleasant experience (as pleasant as it can be). I highly recommend."

Kieran B. - Yelp Review