Enhance Your Smile with Porcelain Veneers
---
Porcelain veneers can conceal minor cosmetic flaws, such as stained, gapped, or misshapen teeth, in a relatively quick and non-invasive manner. The doctors at PS Smile Dental in Englewood, NJ, chooses to place Lumineers® because of their minimal preparation and comfortability compared to traditional veneers. No matter what your cosmetic goals, we can help you achieve the smile you desire.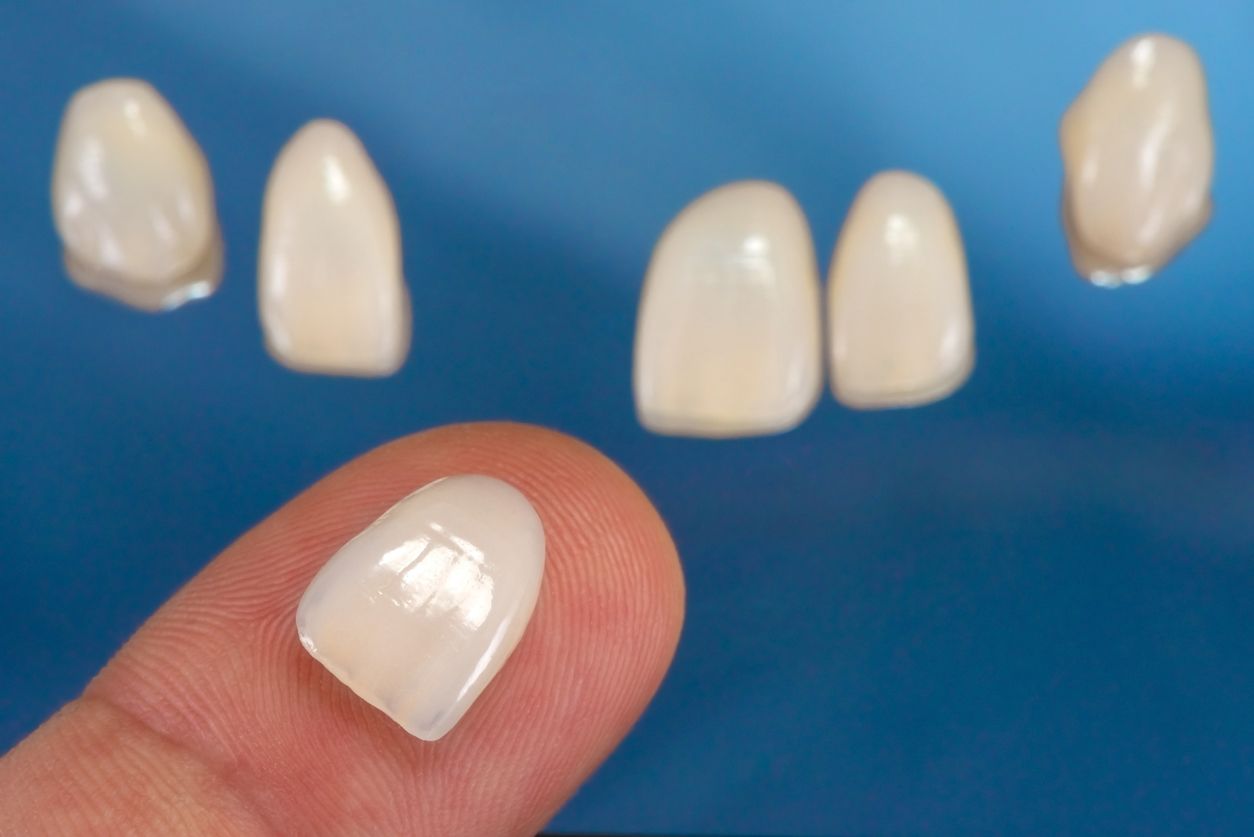 What Are Porcelain Veneers?
Crafted from high-quality porcelain, traditional veneers are thin restorations that adhere to the front of your teeth. This medical-grade dental material reflects light similar to your natural teeth and can be color-matched for an aesthetically-pleasing result. In order to properly bond into place, a small portion of enamel must be removed from the front of your teeth. Custom-made for each individual patient, porcelain veneers can:
Conceal chips or small fractures
Mask intrinsically stained teeth that have not responded to professional teeth whitening
Change the shape of a natural tooth
Restore teeth that have been worn down due to bruxism (teeth grinding)
Fill in gaps or spaces between the teeth
Camouflage slightly crooked teeth
How Do Lumineers® Differ from Traditional Veneers?
Lumineers are similar to traditional veneers, but are much thinner. For this reason, they do not require the removal of enamel. These ultra-thin restorations can slide over your natural teeth while keeping the structure intact. Because the teeth do not have to be reduced in preparation for Lumineers, they can be removed if necessary. Like their traditional counterparts, Lumineers are strong and durable, and they can last approximately 20 years. Because there is no need to remove tooth enamel, Lumineers can be placed without injections, drilling, or discomfort. This minimally-invasive procedure can dramatically improve your smile, and can be completed in about one hour.
Porcelain veneers can conceal minor cosmetic flaws, such as stained, gapped, or misshapen teeth, in a relatively quick and non-invasive manner.
To determine your candidacy for Lumineers, one of our doctors will perform a full assessment of your oral health, which will include a visual examination and x-rays. After discussing your concerns and goals, a fully personalized treatment plan will be created with your needs and budget in mind.
CEREC® Technology
To provide accurate and efficient patient care, we make it a priority to stay on the cutting edge of dentistry. We are proud to offer advanced CEREC technology, which allows us to take digital impressions of your teeth. Using a special camera wand, we can obtain thousands of pictures that build an accurate representation of your teeth, gums, and surrounding structures. These images will be sent to a trusted dental lab where a trained ceramist will skillfully craft your new Lumineers. This process takes approximately two weeks.
Once your new restorations have been fashioned, they will be shipped to our office. When they arrive, we will schedule an appointment for you to have them placed. Carefully checking the fit, our doctors will make any necessary adjustments and cement them into place for a beautiful and long-lasting smile.
Schedule a Consultation Today
If you have aesthetic concerns regarding your smile, Lumineers could be the solution for you. This cosmetic treatment provides an incredibly lifelike result using a non-invasive method, drastically improving your smile in one appointment. To schedule a visit with one of our doctors, or to speak with a team member, call our office at (201) 227-0635 or contact us online.
"Dr. Paek and his team were punctual, friendly, and most importantly turned something I dread into a pleasant experience (as pleasant as it can be). I highly recommend."

Kieran B. - Yelp Review